Some say tomorrow is the
end of the world
and a few of us will be left alone on the Earth with the other Heathens for a few months of not-so-fun-times. And looting.
Others, with a greater sense of humor, claim that tomorrow will be some magnificent return to
Jurassic Park
. I am OK with that; I am pretty sure I can hide in my fridge. I just wish I owned a Jeep.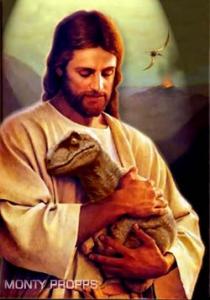 Or, perhaps, tomorrow will just be Saturday, where I have a work meeting and the start of the kids' soccer tournament. Whatever it is, I am reminded of a wonderful book. What?!? You haven't read
The Taking
?!? You must!
The Taking, A Review
Koontz, Dean The Taking. Bantam. 2004. $27.00 ISBN-10: 055380250X
ISBN-13: 978-0553802504
With the sudden deluge of an ominous, luminescent rain, Molly Sloan and her husband awake to a world inexplicably altered and undeniably horrific. Isolated by the systematic failure of all outside communication, and faced with an oppressive and relentless apprehension, the Sloans leave their mountain home to seek out the fellowship and relative safety of their neighbors in town. But safety is no longer part their new reality. The Sloans quickly discover that they are more isolated than ever before as their neighbors disappear and monsters begin to roam the night.
Molly and Neil, deeply in love but barren of children of their own, soon find one purpose in this long night of unrelenting flood, animated corpses, and unimaginable monsters: to save the children. Through that mission, they find that their hope for the future and their faith that they can keep the children safe are the only things that can keep them sane. As the story progresses into nightmare, the reader must ask herself, would we make the same choices? Would we survive the night? And what will the new day bring?
Dean Koontz's apocalyptic thriller is a wild, yet thought provoking exploration of humanity and faith. Surprisingly theological and laced throughout with enigmatic T.S. Eliot quotations, this is more than your average bestselling suspense novel. Koontz offers beauty amid grotesquery, pity through fear, and hope throughout the bleakest of nightmares. Always in high demand, Koontz's books are an easy choice for a tight budget; and with writing this compelling and reflective, The Taking is an excellent investment. Highly recommended.